Tuckerton Wireless Water Tower
Now at the Rams Head Inn, Galloway, NJ
Date of Photographs: November 29, 2012
Date of Gallery Update: Tue Dec 24 18:06 EST 2013
Photographs by John H. Yates

This water tower is the water tower originally at the Tuckerton Wireless Radio Station. References (1, 2, 3, 4).

Reference: "The Ram's Head has evolved and changed under numerous ownerships. The WWII-era building sits on five acres in Absecon, eight miles west of Atlantic City. The Water Tower, rising high above the Inn, was originally constructed as a part of the Tuckerton Wireless Tower power station in 1912. It was restored in 1982 and moved to the property to welcome visitors."

GPS: Current Location 39.45273 -74.53733.
GPS: Original Location 39.55825 -74.37042.

The black and white historic photographs here show the water tower at its original location and the color photographs show it at its current location.
---
---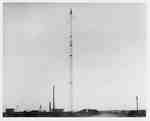 Tuckerton Wireless Buildings and Antenna
---