2433 Carlisle Street, Philadelphia, PA
Date of Photographs: June 03, 2014
Date of Gallery Update: Sat Jun 07 22:04 EDT 2014
Photographs by John H. Yates

My Great Grandmother, Wilhemina L. Fuhrman Royer lived here at the time of her death at 26 years old in 1893. My Grandmother, Annie Royer Yates, was 2 years old when she died.

"ROYER - FUHRMAN. - On the 23d inst., Wilhelmina L., wife of Alfred J. Royer and daughter of Jacob and the late Louisa Fuhrman, in her 26th year. Relatives and friends of the family are respectfully invited to attend the funeral on Monday, 27th inst., at 2 o'clock, from her late residence, 2433 Carlisle street. To proceed to Mount Peace Cemetery."
(Philadelphia Inquirer, 27 Nov 1893)

She is buried in a Royer plot in Mount Peace Cemetery, without a stone.
---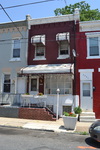 2433 Carlisle Street, Philadelphia, PA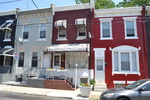 2433 Carlisle Street, Philadelphia, PA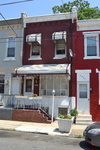 2433 Carlisle Street, Philadelphia, PA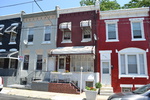 2433 Carlisle Street, Philadelphia, PA
---